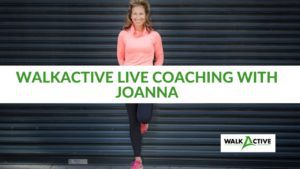 Join Joanna Live every fortnight for a 30 minute WalkActive live coaching session to help you improve your walking with the WalkActive System.
Each session will address a specific area of WalkActive & there is opportunity for Q&A at the end of each session.
Exclusive to participants following the WalkActive Programmes and available via the "My Account" dashboard when you log into WalkActive.
These sessions are delivered via a private zoom link & help progress your WalkActive as you participate in the programmes. Join live or catch up On Demand as part of your on going WalkActive resources available once logged in.
If you do not have a WalkActive log in, start your WalkActive journey today with our Foundation Programme : Get Started with WalkActive
See WHAT'S ON for Live Coaching dates.