WalkActive Stroll to Stride 5 km 
A Free 6 week programme for participants in the East Cornwall Primary Care Network.
Get Fit all through walking with Joanna Hall MSc  Founder of WalkActive.
Walk 5 k with great pace + posture + technique.  Improve your fitness + stamina + pace.
Register your free place today on the 5 ⭐ ⭐ ⭐ ⭐ ⭐ Reviewed Stroll to Stride 5k Programme.
GET FIT WITH STROLL TO STRIDE 5k
Stroll to Stride 5k
Get fit all through walking.
A 6 week audio coaching programme to walk 5 km with

good pace

+

better posture

+
great technique  +
Optimise your walking for health & fitness
A guided programme + Live Coaching (via zoom) with Joanna Hall, Creator & Founder WalkActive  to catapult your results + motivation.
Progress at your pace
Complete the sessions to suit you
Supportive learning environment.
Receive personal feedback from Joanna
Two audio coaching coaching walking workouts to improve your WalkActive technique & pace

Six WalkActive music based pace coaching walking workouts to improve your fitness + stamina

Guided progressive weekly training plan that you can follow at your pace.

Joanna coached music based WalkActive pace audio coaching workout to maintain pace + technique.

Comprehensive "How To" videos to motivate + support your efforts.

Weekly support & tips to consolidate your efforts.

Access to private learning community for motivation & progress.

Pre Course Zoom with Joanna to help you optimise results + enjoyment

BONUS: Live WalkActive Coaching sessions with Joanna to support your training.

BONUS:Introductory beginners audio coaching session to boost your confidence.

BONUS: Direct feedback on your efforts with Live Q&A with Joanna

BONUS: All Live Coaching Sessions recorded and available to watch as part of your course support resources.
WalkActive more effective than Power Walking
This is Andrea's story…
A committed Power Walker – until she learnt WalkActive. With WalkActive Andrea is walking
---
WalkActive helps you walk pain free:
Here's Simon's experiences:
Carrying a number of sporting injuries, learning WalkActive taught Simon to train and get fit effectively.
joint pain reduced
knee mobility improved
better walking technique
---
WalkActive improved my posture phenominally
This is Fran's story:
Already a walker for fitness, in just 2 days Fran enjoyed better posture than 16 weeks of Pilates. Improving
posture
walking technique
slumped waistline.
---
WalkActive more effective than Power Walking
This is retired GP Anne Marie's story…
WalkActive helped Anne Marie recover from knee surgery and poor alignment to feel more positive
improved alignment
successful recovery
reclaimed confidence + mobility
---
WalkActive helps you walk younger & fitter
Here's Kevin's Story
Working hard with long hours at his desk, meant Kevin had lost his fitness & focus. With WalkActive Kevin
lost weight
improved fitness
felt younger
---
WalkActive improves balance + physical confidence
This is Jill & David's story:
Despite arthritis, sore joints and limited foot mobility WalkActive improved
posture
balance
physical confidence
---
Live Coaching with Joanna
BONUS

exclusive live coaching with Joanna

Join Joanna each week for exclusive Live Coaching via zoom for feedback on your WalkActive progress, motivation and expert guidance.
Each session will address a specific area of the WalkActive technique, directly complimenting your educational resources & weekly walking tasks. Whether you are able to attend live or just catch up later at your convenience – these exclusive sessions with Joanna join the dots on your learnings, give direct feedback on your progress and catapult your results.

There is opportunity to have your questions answered in the Q&A at the end of each session.

Live Coaching dates:
Tuesday May 31st 7.00 pm
Tuesday June 7th 7.00 pm
Tuesday June 14th 7.00 pm
Tuesday June 21st 7.00 pm
Tuesday June 28th 7.00 pm
Tuesday July 5th 7.00 pm
All Live Coaching recorded and added to your learning resources for ongoing reference.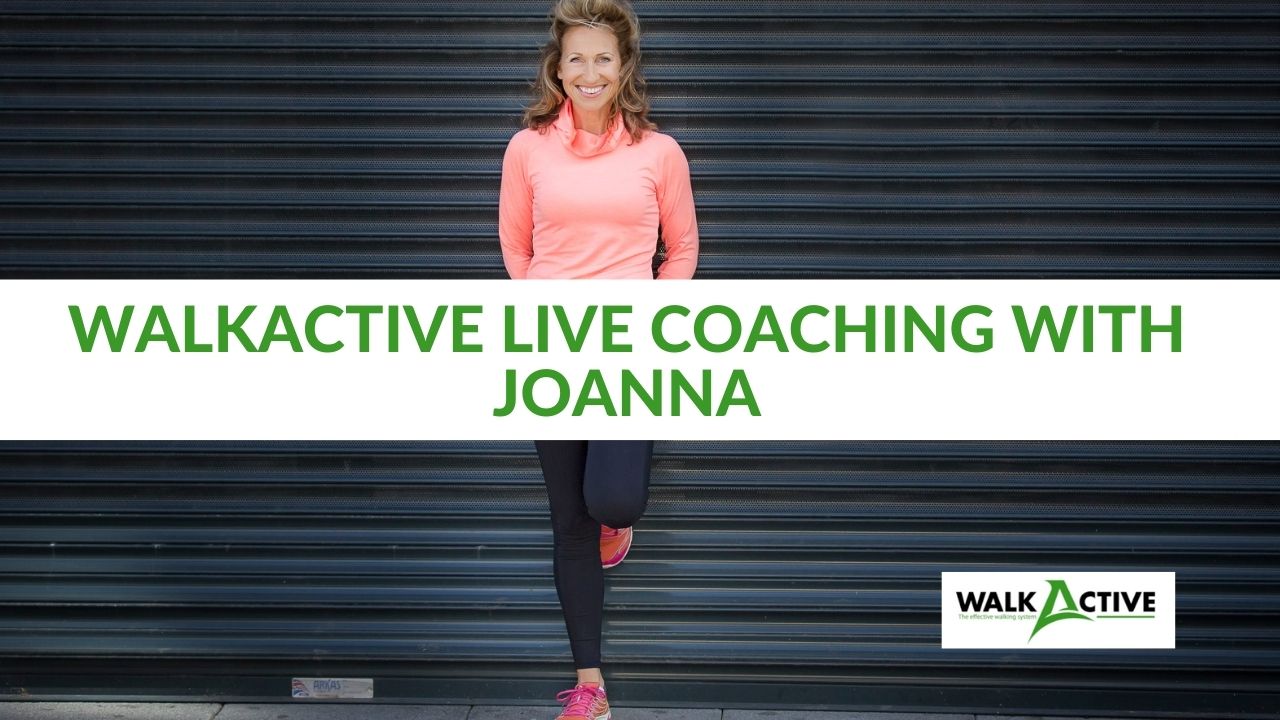 ONBOARDING CALL with JOANNA

Join Joanna via zoom on Wednesday May 25th  at 12.30 pm and 7 pm ( choose your session) as she personally introduces you to the Stroll to Stride Programme before officially commencing on May 28th

She'll talk you through:

what to expect,
your WalkActive App
how best to get organised,
answer your questions,
optimise your time so you feel the results fast.