This is one of my go to smoothies and a particular favourite post WalkActive. In fact it was my main stay energy boosters as I was creating and testing my cardio boosting WalkActive Stroll to Stride 5 km programme.
It's also great for breakfast on the go, a time short working lunch, an instant sanity saving hydrating pick me up – you know that time ….mid afternoon slump, mid morning brain blip? Packed with potassium, selenium and fibre, this smoothie tastes super luxurious, is satisfying, filling and a regular feature in my foodie week! Plus great for using up over ripe bananas – that can find themselves loitering around the fruit bowl – a little too long! ….Or is that just our home !?) If this resonates with you – peel your bananas break them roughly into chunks and place in a container ready to use straight from your freezer. Squeeze with a little lemon juice to stop them going brown.
I am a big believer in getting up, out and away from your desk at some point during your day and having a dog lunchtime is a prompt time for him and a mental clarity time for me, where I review my morning, grab a bit of me time before starting the afternoon activities. Even just 10 minutes WalkActive can reset your mind and body. Consequently this smoothie has become a real favourite of mine as I can rustle it up super quick and enjoy at my desk – I make a full pint of it – so its great to keep me going and especially good if you struggle with mid afternoon munchies – think of saving half of it, and drink in two halves to enjoy mid pm!
This is also popular with children – though I have to admit my teenager prefers her bananas straight from the fruit bowl pre going over!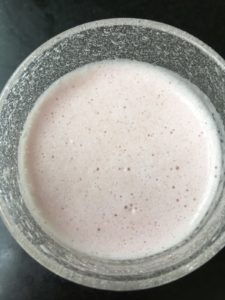 Here's what you need:
Pint oat milk unsweetened – use dairy milk, almond or soya if you prefer.
3 brazil nuts
one banana in frozen chunks – add more chunks if you intense the banana flavour to suit your needs.
1 tsp milled flaxseed
handful goji berries
handful of ice cubes
add a little water to create the consistency of your choice.
Put all the ingredients in a good blender – I'm a big fan of Vitamix and a Thermamix. These high powered blender really do improve the consistency of your smoothie – making it super silky smoothie. Blend and add a little water if you find this too thick for your liking.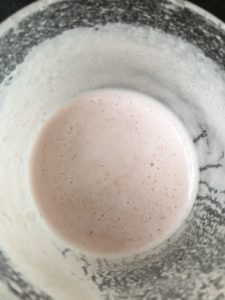 Pour into a glass and enjoy, store the remainder in the fridge and enjoy the same day.
Vegan friendly!