WALKACTIVE PROGRAMMES
   WalkActive transforms your walking: walk smoother, faster, further for physical fitness, shape change and mental wellbeing.
   Get Started with WalkActive is the WalkActive Foundation programme and the place to begin feeling the WalkActive benefits.
   In this programme you'll
Learn the building blocks to the whole WalkActive system for health, fitness and wellbeing benefits.
Improve your walking technique
Boost your posture
Reduce joint discomfort
Increase daily physical activity levels
   We appreciate individuals have different time constraints, learn in different ways and at varying paces so we offer two       programme options to suit you:
 Get Started with WalkActive: On Demand
 Get Started with WalkActive: Joanna Coached.
Get fit and in shape with WalkActive Stroll to Stride 5 km, the first follow on programme from Get Started with WalkActive. Part of the ACHIEVE series to boost your cardiovascular fitness and body shape with results driven, evidence based programmes that get you results using the WalkActive technique in an encouraging, enjoyable & sustainable way.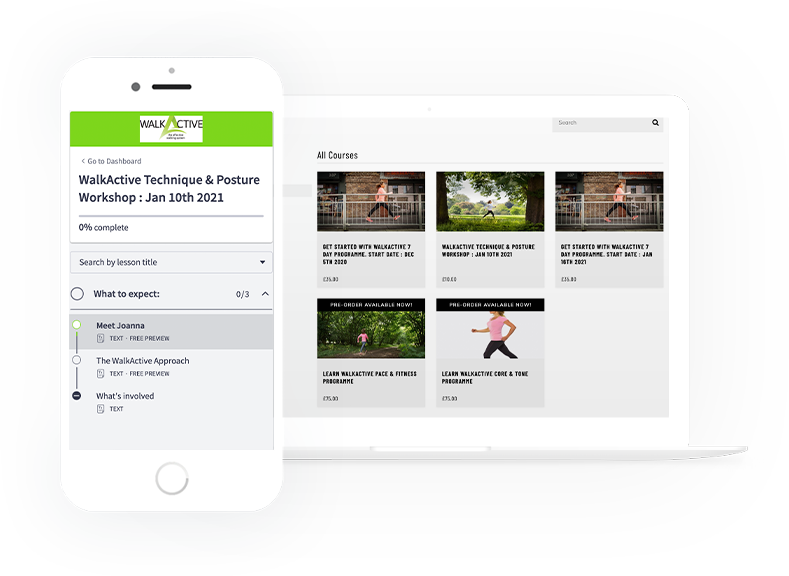 FULLY RESPONSIVE
Access courses from any device
All WalkActive Programmes are designed to work on any mobile device, laptop or desktop computer. You can take WalkActive with you on the go, on your mobile phone or tablet, or work through the techniques on your computer before taking what you've learned out with you on your walk.
We want your WalkActive experience to be effective, enjoyable and educational so lessons on your WalkActive Programmes are delivered using videos, audio coaching podcasts, with clear comprehensive instructions via an intuitive, mobile-friendly interface which you can take with you on the go!
PLUS..
Join Live Coaching sessions with Joanna, your WalkActive Coach every fortnight as she shares her expertise for motivation + optimise + progress your  walking efforts.
NOW AVAILABLE ONLINE + ON DEMAND
WalkActive Programmes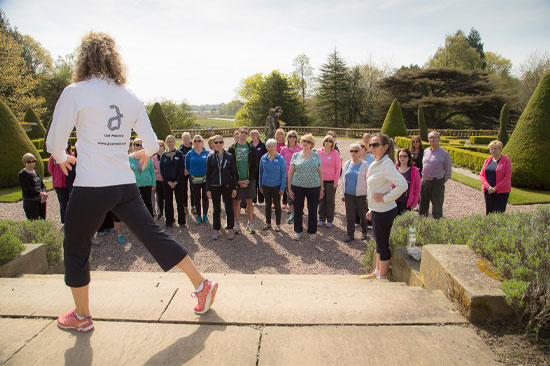 LEARN  →
Learn the fundamental building blocks
to transform your walking.
Improve your technique, posture, pace + tone.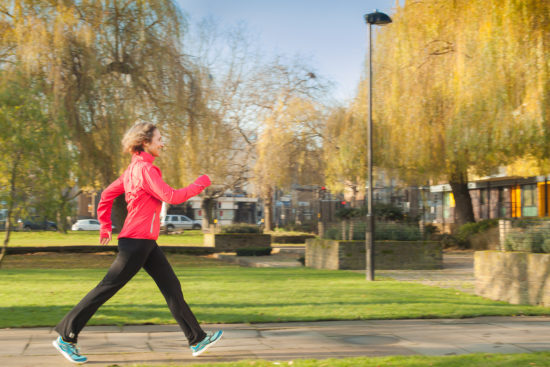 ACHIEVE  →
Progress with WalkActive
Results driven programmes for
fitness, body shape + mental wellbeing.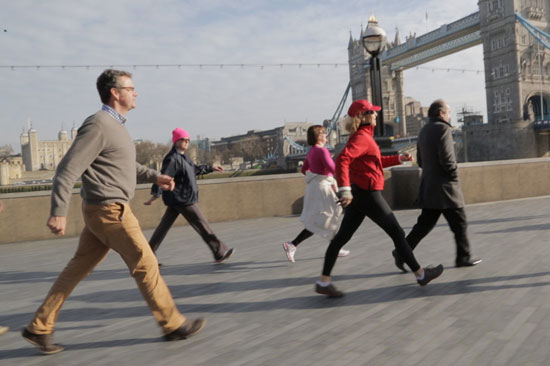 THRIVE  →
Connect, Engage and Enjoy
Join Live Coaching, share experiences + keep motivated.